BLAZER GIRL.
I recently went to some event, where I wore this newly found blazer. And when I was showing this blazer to my friend Rebecca, she told me "Oh right, you're a blazer girl!" and I thought for a second "that's so true!".
I truly love blazers. WHY? Because they bring an extra confidence and empower me in a good way. I feel like I'm totally cool while wearing a blazer. Do you maybe have the same? It's not like I'm not cool not wearing one, but blazers DO bring me some extra power.
I found this blazer at the vintage store. Right, right, AGAIN! I actually starting to feel like mixing vintage pieces with both luxury and mass market brands is becoming my thing. I genuinely love discovering cool items in the bunch of old clothes - never had that before. Is it my roots coming on the surface (my mom adores second-hand haha) or maybe I finally started to understand my style better? Anyhow, I feel like I have a good eye on finding great stuff. But don't get sad, I found some nice new blazers for you guys, just check them lower.
STYLING TIPS.
FIRST LOOK. I decided to show you how simple look with denim culottes and blazer can look differently by changing shoe-bag ensemble. Here is the first version with strapy heeled sandals, that I simple ADORE paired with (also vintage) Celine-like handbag. Bold, easy and super stylish.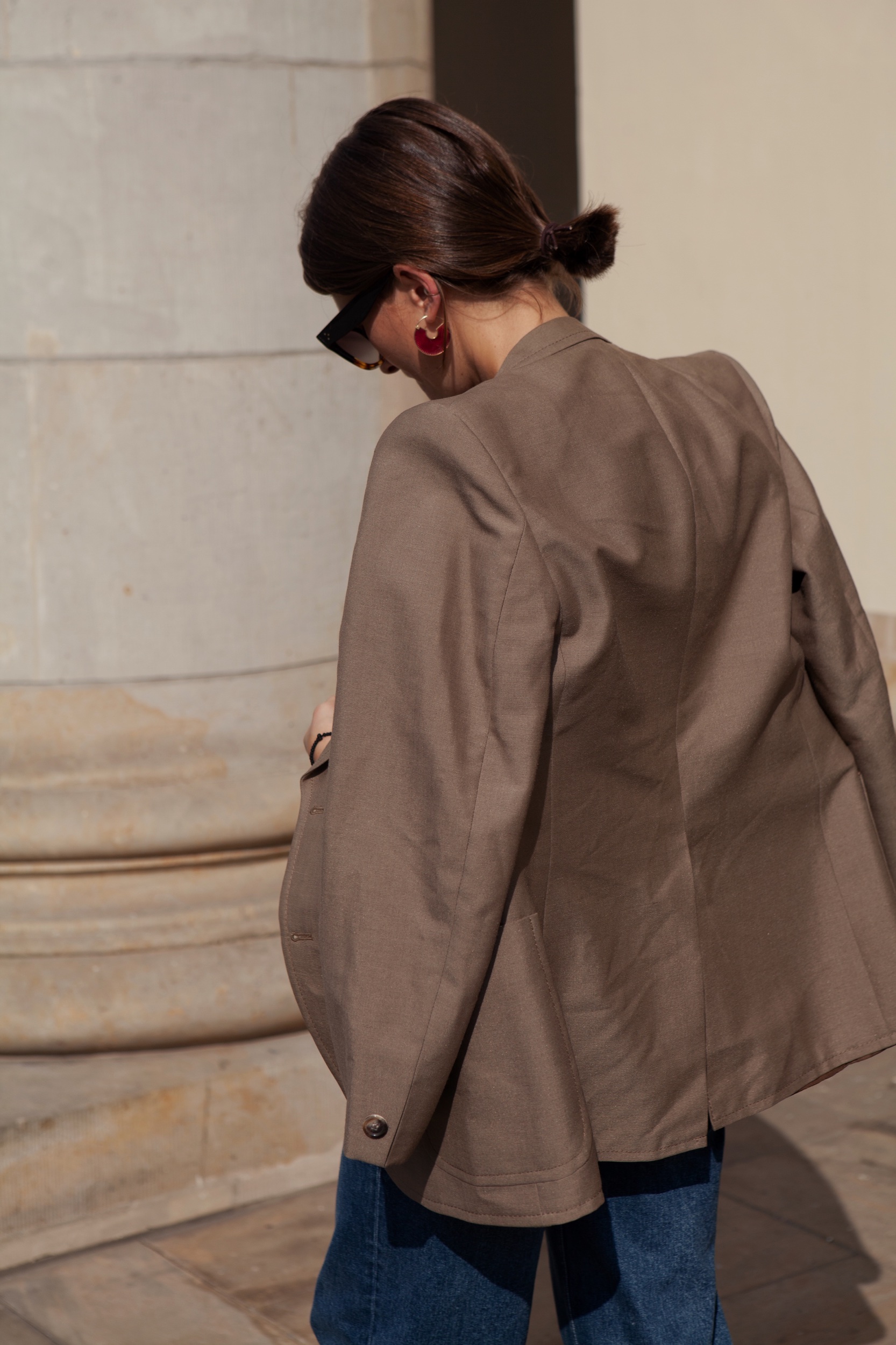 I'm a blazer girl. Blazers empower me.
SECOND LOOK. Same look, but different shoes and bag. Can you see how that entire silhouette and mood changes by just wearing different shoes and bag? I love this look more, I guess, because it has all the trends - oversized bag, sporty aka ugly sandals, and slightly oversized blazer, that is actually classics.
ACCESSORIES. Accessories ofc play huge role too. I'm wearing my beloved Celine glasses and new Jane Koenig earrings, Paul Hewitt watch and anchor bangle.
Also have you see this backless top? I mean how gorgeous it is? Seeing a blazer you'd never pay attention to this top, as it looks super simple. But as soon as I take it off and turn my back, yeah girl, the game is on! Love this hidden sexy element. Knowing that my back is exposed , but covered with a blazer gives me some kind of a powerful feeling. Ladies you feel what I mean? :) Anyways, look how absolutely gorgeous it looks like!